This post contains affiliate links. As an Amazon associate I earn qualifying purchases. Click here for more about this policy.
These Healthy Fall Dinner Recipes are comforting, easy, nutritious and low calorie favorites your family will enjoy!
Fall is by far my favorite time of year. Pumpkin, cranberry, apples, chili, casseroles, warm soups, oh my!
It's the beginning of the comfort food avalanche that lasts all winter long. But fall is also a tricky time of year when it comes to healthy eating and a time when most people fall off the wagon with their health goals.
The key is to balanced the comfort with your goals is eating a high volume of protein and produce. Eating enough of those foods, will allow you to naturally eat more of the good stuff in moderation. This kind of mindfulness really helps my clients succeed through the cooler time of year!
Crockpot Italian Chicken & Potatoes
Chicken, Carrots & Potatoes made in a slow cooker! This Crockpot Italian Chicken and Potatoes makes the most tender chicken. An EASY, 5-ingredient dinner packed with flavor that will satisfy the whole family!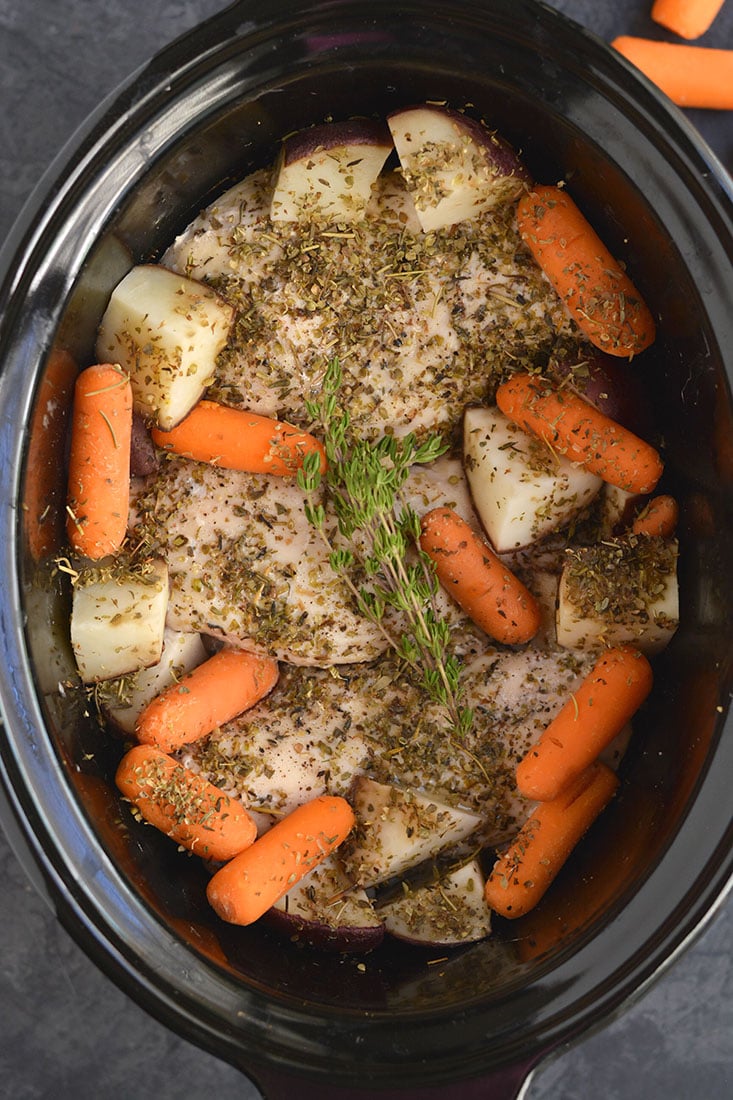 Healthy Turkey Meatloaf
Healthy Turkey Meatloaf baked on a sheet pan. This easy low calorie dinner recipe is simple to make, egg free, hearty, gluten free and family approved!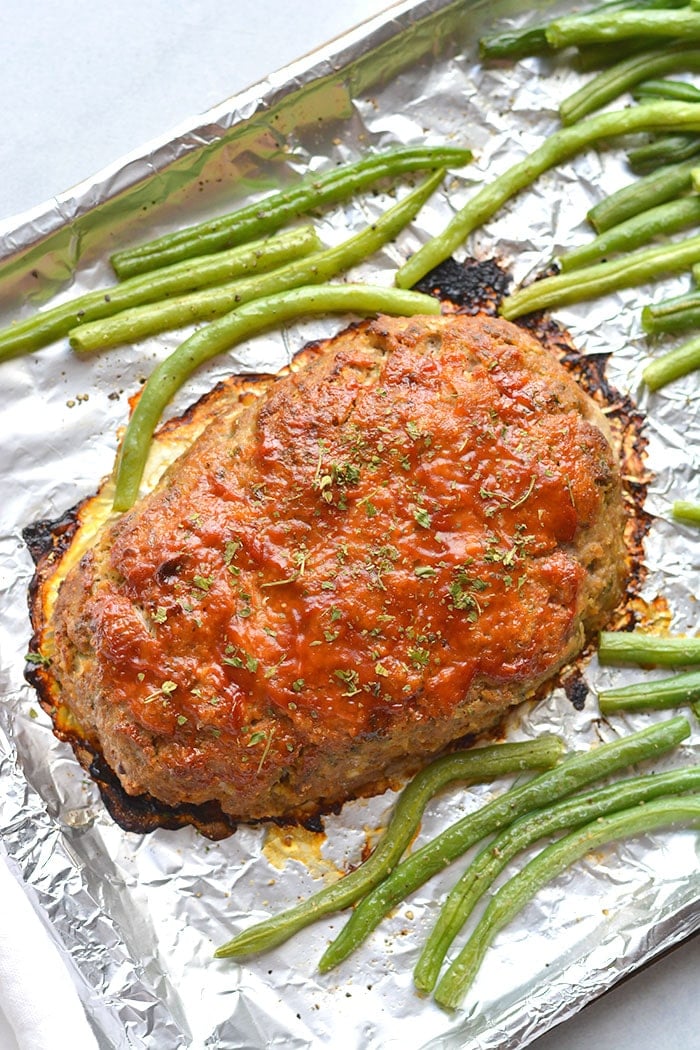 High Protein Chickpea Minestrone
This High Protein Minestrone Soup is the best Instant Pot or slow cooker soup! Simple, healthy, delicious and nutritious. Get ready for an amazing tasting soup!
Skinny Turkey Meatballs
Skinny Italian Turkey Meatballs are a nutritious and lighter twist on an Italian classic dish. Made with lean turkey and herbs, they're the perfect dinner!
Crockpot Italian Chicken & Peppers
My most pinned recipe! This crockpot Italian chicken and peppers turns simple ingredients into a flavorful pizza-tasting meal that's nourishing. Serve over lettuce, zoodles, rice or pasta for a complete meal.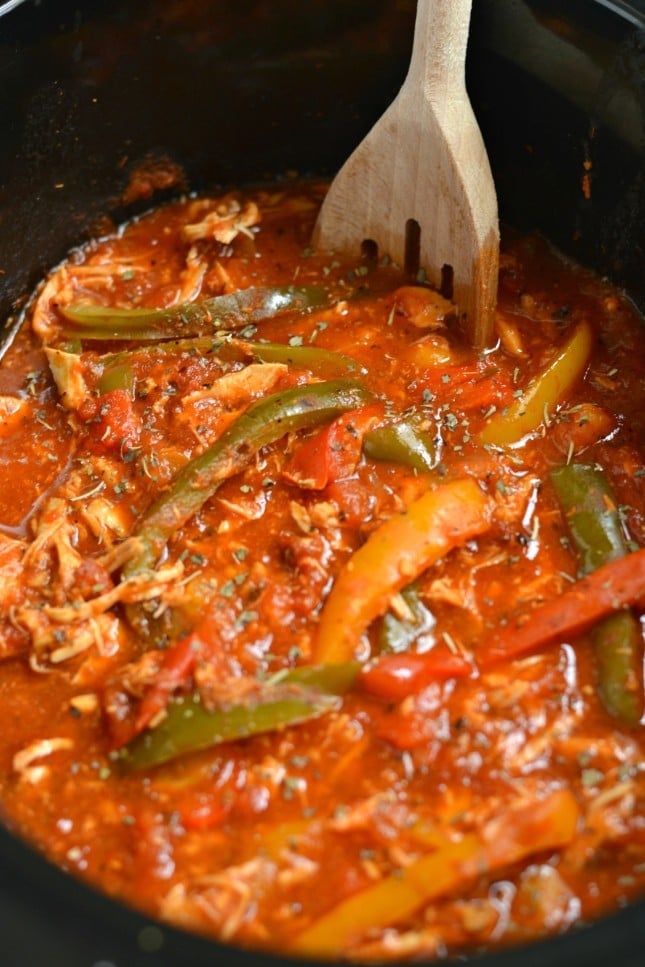 Crockpot Chicken Noodle-less Soup
A Paleo twist on traditional chicken noodle soup. Spaghetti squash replaces noodles for a low carb, high fiber bowl of soup that's just as warm and comforting as the original.
One Pan Baked Salmon & Asparagus
If you need a comforting and EASY weeknight meal, look no further. This One Pan Baked Salmon Asparagus and Sweet Potato is perfectly baked in 30 minutes on a single pan for EASY cleanup and makes one filling meal!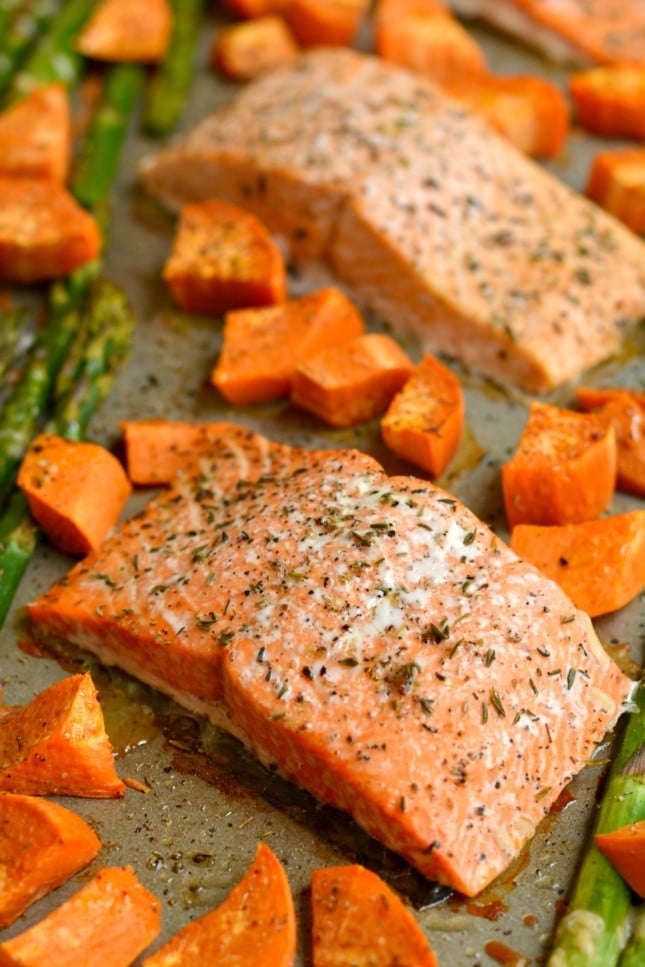 Turkey Sweet Potato Casserole with Eggplant
This Paleo and low calorie casserole is packed with protein, vegetables, herbs and a creamy nut sauce that everyone goes nuts over!
Crockpot Pizza Quinoa
Crockpot Pizza Quinoa! This easy and healthy slow cooker meal is a lighter version of pizza with healthier ingredients. Nourishing, tasty and customizable.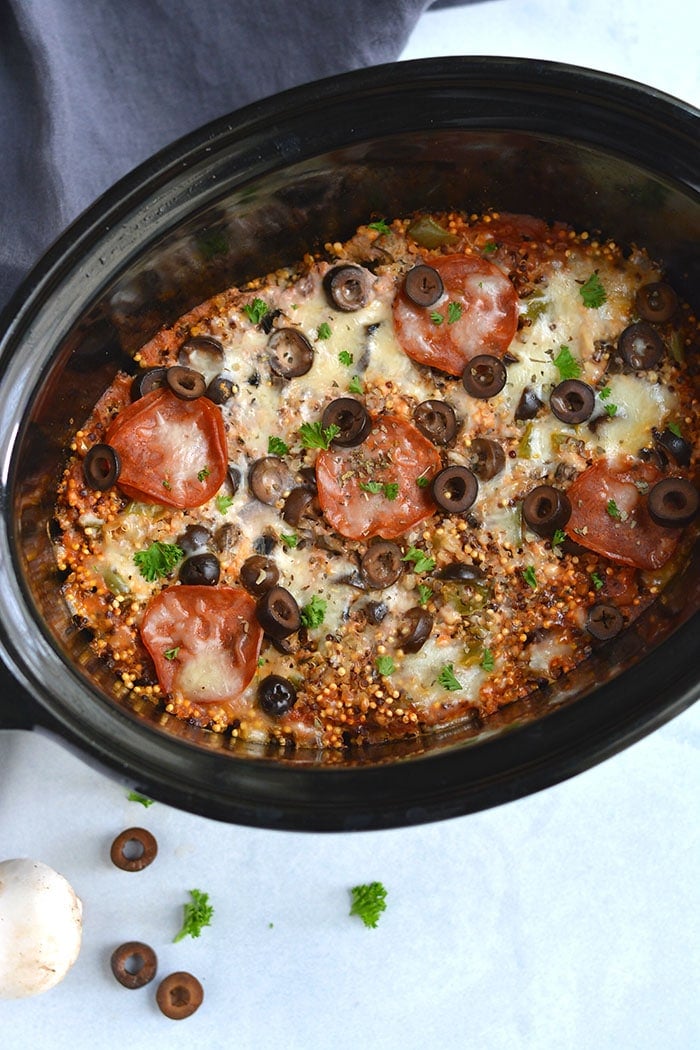 Smoky Black Bean Lentil Chili
A hearty and healthy meal with a spicy kick. Seasoned with jalapeño and smoky paprika, this makes the perfect comfort meal on a chilly winter day!
Crockpot Turkey Sausage Meatballs
Crockpot Turkey Sausage Meatballs! Thick, juicy, tender meatballs are made with turkey and sausage in a slow cooker. An easy dinner that pleases a crowd!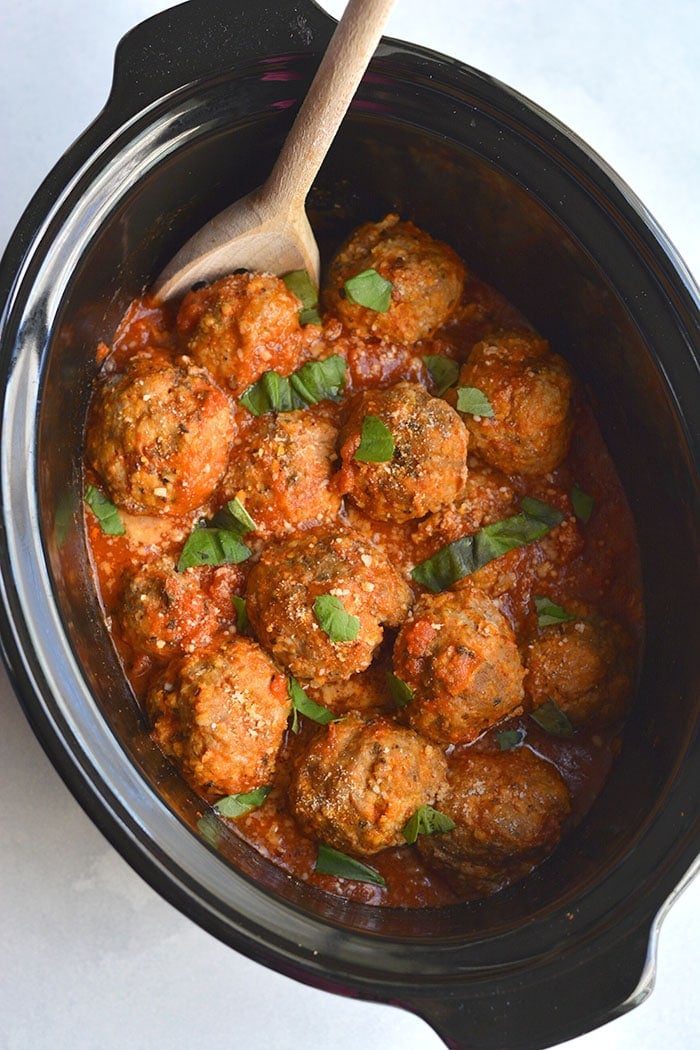 Cauliflower Chicken Soup
Creamy Chicken Cauliflower Soup is a healthy, dairy free recipe. A comforting bowl of this soup is sure to warm you up on a cool day. Made with a large dose of parsley for anti-inflammatory properties, this soup is also Paleo, Low Carb, Gluten Free and Low Calorie.
Butternut Sweet Potato Soup
A sweet pairing of veggies that's packed with Vitamins A and C. Important for supporting the immune system during the fall transition.
Skinny Zuppa Toscana
Skinny Zuppa Toscana! This lightened up twist is made with lightened up ingredients and insanely delicious! Creamy, savory and well balanced for a yummy winter meal. Gluten Free + Low Calorie + Paleo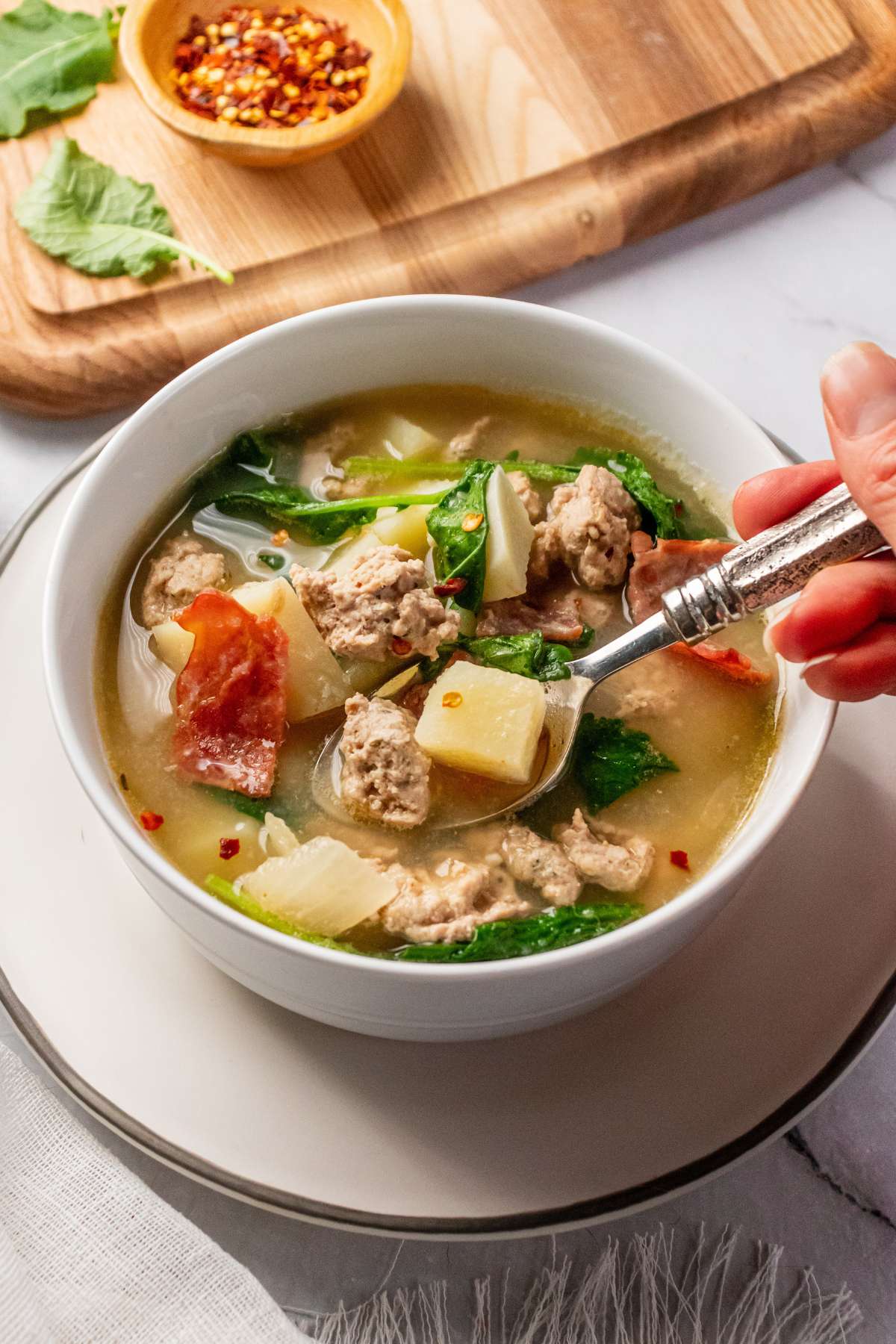 Sheet Pan Sausage & Veggies
Sheet Pan Sausage and Veggies! Sugar free sausage, Brussels sprouts, butternut squash, sweet potato, red pepper and onion baked together on a sheet pan. A quick, healthy and filling 30-minute meal. Paleo + Gluten Free + Low Calorie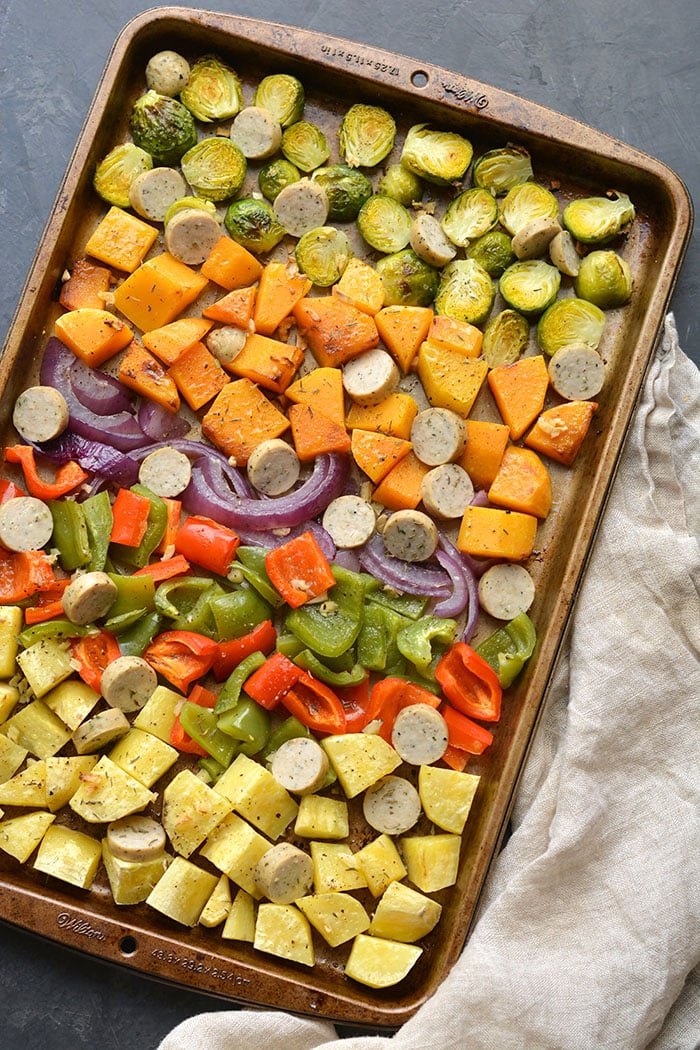 Creamy Chicken Potato Casserole
Creamy Chicken Potato Casserole! A comforting meal with potatoes, chicken and a dairy-free cream sauce. A simple, wholesome Paleo dinner that's easy to make and Whole30 friendly. Paleo + Gluten Free + Low Calorie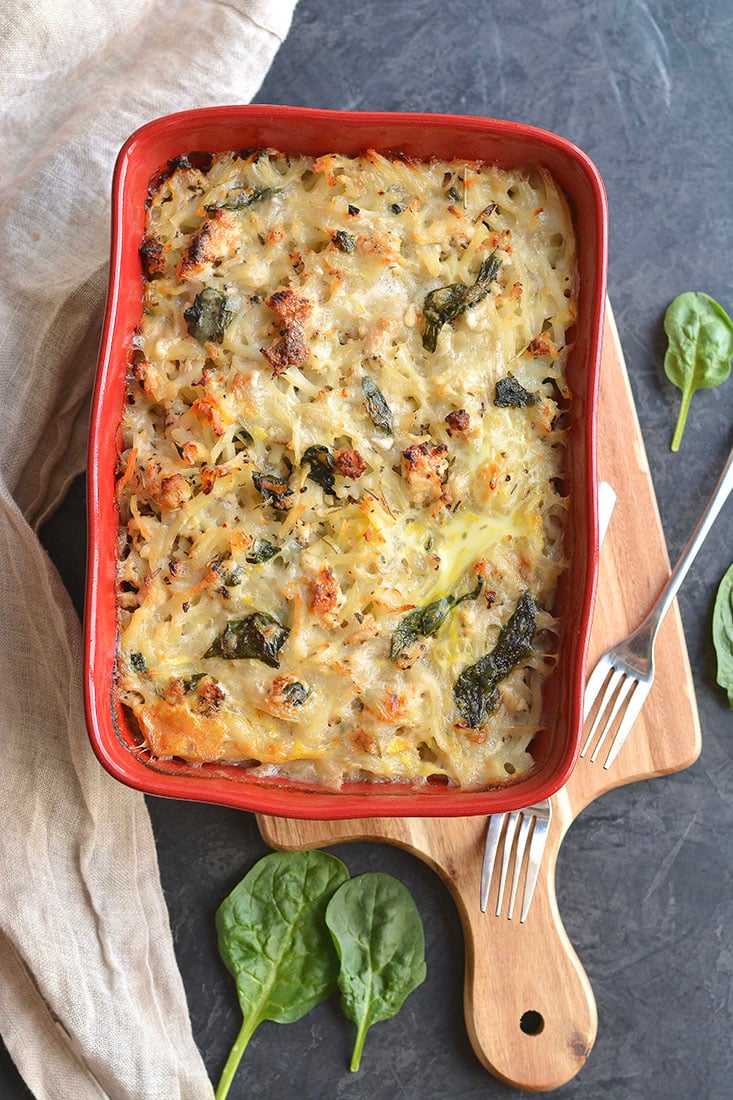 Meal Prep Spaghetti Squash & Meatballs
Meal Prep Spaghetti Squash & Meatballs! A traditional recipe gets a low carb makeover paired with veggie loaded meatballs for a high protein lunch or dinner! Paleo + Gluten Free + Low Calorie
Chicken Wild Rice Soup
Chicken Wild Rice Soup is a flavorful meal in a bowl. Packed with veggies, protein and wild "rice" to fill you up this season. Easy to make and crowd pleasing! Gluten Free + Low Calorie
Cashew Chicken Bake
This Cashew Chicken Bake is a simple, one dish dinner packed with protein and vegetables. A healthy gluten free, low calorie meal the whole family will love! Gluten Free + Low Calorie
Spaghetti Squash Lasagna
Paleo Spaghetti Squash Lasagna! A healthy casserole perfect for a make ahead meal. Easy to make, packed with protein, feeds a crowd and is freezer friendly! Gluten Free + Paleo + Low Calorie