This Healthy Cinnamon Baked French Toast is baked and better for you! Made with sugar free pumpkin bread and warm spices. A nutritious breakfast to start your day! Paleo + Gluten Free + Low Calorie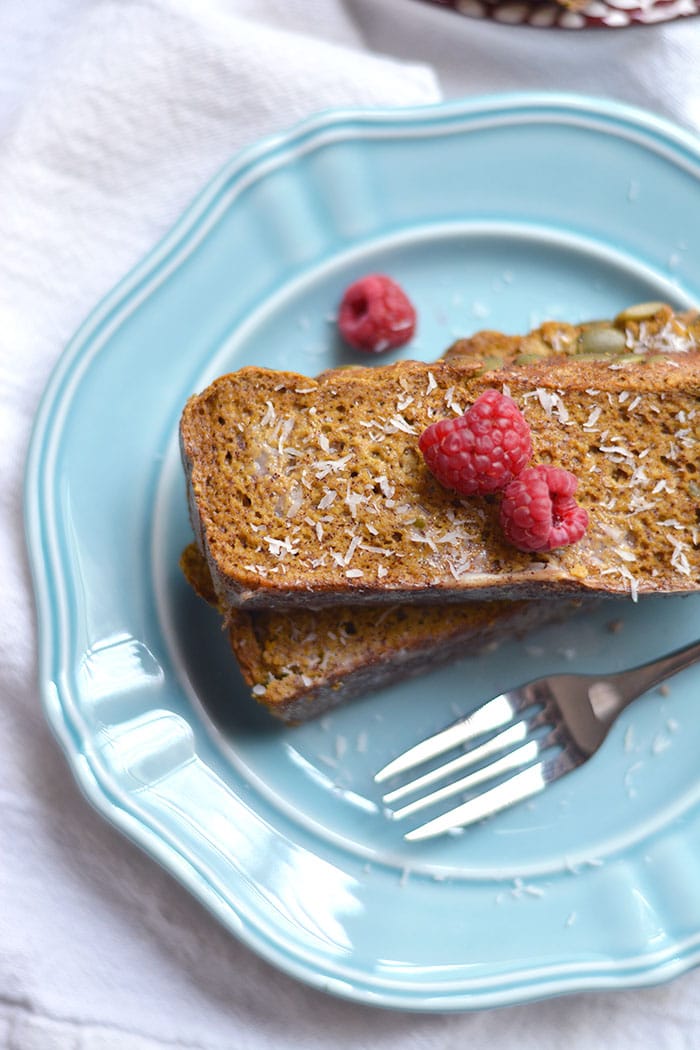 This Healthy Cinnamon Baked French Toast was originally published December 2016. I've re-tested and updated the recipe for you. It's delicious!
I L-O-V-E my pancakes, as in, love them so much I may have to open my own pancake place someday. But french toast, not so much. You see, I have an issue with bread, and if you're gonna read this blog then you should probably know.
I don't eat a ton of bread, not because I don't like it. Before my 80 pound weight loss I ate twice my body weight in carbs every day. I LOVED carbs.
The issue I have with bread is the ingredients. If you read food labels, you'll find a ton of things added like sugar to breads that well, really aren't food. Sometimes not even grains. My other issue is gluten. Since being diagnosed gluten intolerant in 2015, I've only found a handful of gluten free breads I like. While they may be gluten free, even some of them have things added that shouldn't be there.
Many of these "non-food" ingredients have been linked to inflammatory and auto-immune related diseases, which is why I have to be careful not to eat them as they will upset my sensitive hormones.
Whether they're low calorie, low fat, gluten free or regular 'ole bread, bread is a tricky food! It's not one to be avoided, but one to carefully inspect before buying. In my 12 week group coaching program, I teach all about carbs and how to distinguish the good from the not so good.
Once you get your perfect bread, you can make this simple Cinnamon Baked French Toast!
Cinnamon Baked French Toast
For the recipe, I used leftover Sugar Free Paleo Pumpkin Bread. I might be a little biased, but this bread is awesome for french toast making or just eating in general. It has a mild flavor and it's incredibly thick making it perfect for soaking up the warm nutmeg-cinnamon egg wash. Think of it as snickerdoodles in french toast form!
The best part is there's no added sugar to the because the pumpkin bread is 100% added sugar free!
This Cinnamon Baked French Toast is extra special 'cuz for those of you who struggle with meal prep it's 100% faster than any french toast you've ever made.
Not only is it baked in the oven, it's a dump and bake! Just toss the bread in a baking pan, pour the egg mixture over the top of the bread so it soaks through and bake 10 minutes. That's all! No messy dipping or waiting for individual slices to cook. Everything bakes together in one shebang!
This Cinnamon Baked French Toast makes a healthy, quick weekend breakfast anytime of you. It's also perfect for meal prepping. Just dump and bake, store in the fridge to eat all week long! So simple, so easy, so delicious!
Healthy Cinnamon Baked French Toast
This Healthy Cinnamon Baked French Toast is baked and better for you! Made with sugar free pumpkin bread and warm spices. A nutritious breakfast to start your day! Paleo + Gluten Free + Low Calorie
Prep Time 10 minutes
Cook Time 10 minutes
Total Time 20 minutes
Servings 8 slices
Calories 181 kcal
Instructions
Preheat oven to 350 F. Prepare a loaf pan by lining with parchment paper or spraying with olive oil.

In a shallow dish, whisk together the egg whites, milk and spices.

Place the bread already sliced, in the baking dish in a single row. Note, you can also use a sheet pan by laying each slice flat on the pan.

Pour the egg white wash over the bread in an even layer. Let it sit 5 minutes to soak through prior to placing in the oven.

Bake at 350 F 10 minutes until eggs have set.

Serve immediately and top with optional toppings as desired.
Recipe Notes
Nutritional values are based on using Sugar Free Pumpkin Bread made with almond flour. Nutritional values will differ using other breads.
My Amazon shop has more products similar to those used for this recipe and that I recommend to my nutrition clients.
Course Breakfast
Cuisine American
Keyword almond flour, baked, dairy free, french toast, gluten free, healthy, low calorie, no added sugar, Paleo, paleo pumpkin muffin, refined sugar free, sugar free
Nutrition facts per serving (1slice)
Calories 181 kcal
Fat 8.4 g
Saturated Fat 1.2 g
Cholesterol 37.4 mg
Sodium 214.7 mg
Potassium 0 mg
Carbohydrates 18.7 g
Fiber 4.3 g
Sugar 1.7 g
Protein 8.3 g
Vitamin A 0 %
Vitamin C 0 %
Calcium 0 %
Iron 0 %
Meal Plans
Get a meal plan designed to meet your weight loss goals.
Learn More
What I Used For The Recipe