This post contains affiliate links. As an Amazon associate I earn qualifying purchases. Click here for more about this policy.
Made with chocolate, avocado, acai and banana, this recipe pairs two unexpected recipes together to make one delicious superfood bowl. A modern twist on the beloved acai bowl.
Hi Guys! Happy Friday! I'm so happy it's Friday! Doing a little dance right now. Jet lag is rough especially when you come home and have to jump right back into a work week. Holly Guacamole. I felt like I needed a few days to detox before being bombarded by my work, but unfortunately…deadlines. Need I say more?
Monday I worked from home. Most of the team was working remote which was good. I wasn't ready for traffic, grunting cubicle neighbors and clothes other than my yoga pants. I traveled all day Saturday, was exhausted & fighting a cold. I seriously thought my ears were going to explode and have been nauseous all week. Thankfully the cold seems to have one foot out the door today. Fighting a cold at the same time you have jet lag is crazy. You wanna sleep but you're not sure if it's the cold or the jet lag.
I noticed jet lag is much easier adjusting to coming home from Europe than going to Europe. I felt like a doozy most of the week I was in Munich. Never felt like I adjusted fully to the time zone. Once I was home, I was good to go after 2 days. I can't say the same when I've traveled home from Asia in the past. It was a least a week of waking up at 2am before I was adjusted. I think traveling west is easier than east, but I could be making that up in my head.
This week I was back to the plethora of therapy appointments. My elbow's still been a nuisance. It has S-L-O-W-L-Y been feeling better, but as soon as I do the wrong thing it freaks out on me and let's me know it too. P.S. I haven't figured out yet what thing triggers it. The doctor suggested an MRI. I talked it over with my OT this week. Actually a few OT's weighed in on the pros/cons of having one. They agree I don't have tennis elbow. Instead have radial nerve. One of the senior OT's put her hand in a very specific place on my elbow. I nearly went through the roof. She's 99% sure the nerve was damaged when I banged my elbow on the door last year. They said it could take up to a year to heal and it won't heal without OT. Awesome.
We agreed none of the treatment for my elbow wouldn't change with an MRI. It would be a lot of money and time with no real value. I already owe Mayo Clinic $5500. I don't need more tests much less unnecessary ones. If I'm gonna have an MRI, it's gonna be for my femur & hip. I need a few months to before I do that so I can talk myself into doing it. I just can't take more doctors right now. I need normal.
I'm looking forward to a normal weekend getting back to my normal routine, normal cooking and normal trail run. Those things are normal and normal is awesome. Something else that's awesome. Hot weather food. Now that's it's in the 90's in Phoenix it's time to bust out the blender for smoothies and acai bowls. This bowl was a complete fluke. I had leftover chocolate avocado pudding that I mixed with acai. Strange, but holly deliciousness! Not holly guacamole. By the way, you buy acai in the freezer section to make your own. A few people have asked in case you're wondering why I'm pointing out the obvious. Here's to an awesome and normal weekend! 
 [Tweet "Guilt Free Chocolate Avocado Acai Bowl #chocolate #acai #superfood"]
Chocolate Avocado Acai Bowl
Made with chocolate, avocado, acai and banana, this recipe pairs two unexpected recipes together to make one delicious superfood bowl. A modern twist on the beloved acai bowl.
Author: Megan @ Skinny Fitalicious
Ingredients
¼ of Chocolate Avocado Pudding Recipe - > http://skinnyfitalicious.com/chocolate-avocado-pudding/
1 packet frozen acai
Instructions
Place ingredients into blender
Blend ingredients until fully combined
Pour into a bowl
Top with berries, nuts & more bananas
Notes
Makes 1 bowl, 186 calories
Nutrition Information
Serving size: 1 Calories: 80 Fat: 7g Saturated fat: 1g Unsaturated fat: 6g Carbohydrates: 4g Sodium: 4mg Fiber: 3g Protein: 1g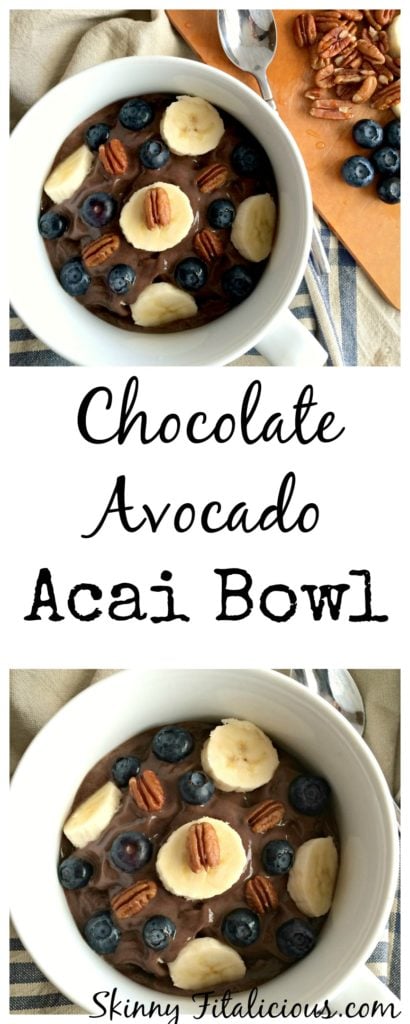 Tell me two AWESOME things you're looking forward to this weekend!

Facebook | Twitter | Pinterest |Instagram
Disclaimer – Affiliate links are included, which enable me to earn a small income and do not affect purchase price. Money earned goes back into my large grocery bill to bring you more delicious recipes!
[AdSense-A]