This post contains affiliate links. As an Amazon associate I earn qualifying purchases. Click here for more about this policy.
Morning Friends!  Well, Mom is flying home as this post goes up.  Her flight was cancelled last weekend and she was rescheduled to return to Wisconsin today.  I have no idea why anyone would want to go to Wisconsin right now.  It's 80 degrees in Phoenix & either snowing or below zero in Wisconsin.  She's been visiting since before Christmas and it's been such a blessing having her here these last months as I've been recovering from my foot injury.  She's helped keep my home in order, maintain my sanity while I juggle my crazy jammed packed schedule & take care of me.  Between recovering from this foot injury, hours of fitness training, physical therapy, blogging & work, my life can be like a circus act at times.  And no matter what age you are, it's just nice having your Mom take care of you. 
After the airport shuttle picked up Mom at 4:30 this morning, I headed to the gym as usual for 5:00 a.m. for spin class.  Good thing I had fitness to distract me from thinking about her departure.  The endorphins helped me forget she's leaving, but I'm sure once I get home from work tonight it will hit me she's gone.  I wish my Mom & Dad lived closer especially now that they're getting older.  Also, I might be a pinch scared about being on my own since I'm not fully recovered yet.  
Now that Mom's gone, I'm going to need to find new taste testers for all the new recipes I've been making like this Greek Chia Breakfast Pudding I made last weekend.  This one is incredibly easy to make, low in calories and packed with protein.  I ate this last weekend before spin class.  I don't eat much before I workout and I avoid carbs.  I love oatmeal, but I have a difficult time working out on a belly full of carbs.  It takes my body too much time to digest carbs, which impacts my performance.  Some people can eat carbs before working out.  Everyone is different.  This Greek Chia Breakfast Parfait was the right amount of fuel for me pre-workout.  Even better….it was like eating desert for breakfast!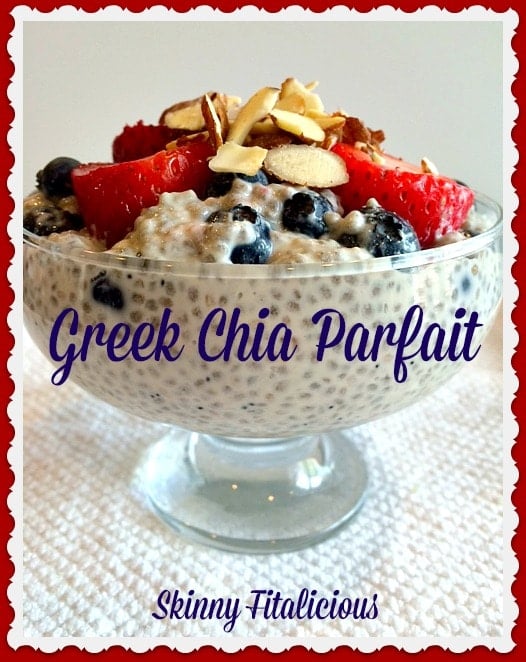 Greek Chia Breakfast Parfait
Greek yogurt with chia seeds & almond milk
Author: Skinny Fitalicious
Ingredients
¼ cup almond milk
¼ cup greek yogurt
½ tbsp honey
1 tsp vanilla
2 tbsp chia seeds
Top each pudding with 1 tablespoon sliced almonds, ½ cup strawberries & ¼ cup blueberries
Instructions
In bowl, whisk almond milk, yogurt, maple syrup & vanilla until blended
Whisk in chia seeds & let stand 30 minutes
Cover & refrigerate overnight
Spoon pudding into small bowl next morning & top with berries & almonds to serve
Notes
138 calories per serving
Nutrition Information
Serving size: 2 Calories: 114 Fat: 6g Saturated fat: 1g Unsaturated fat: 5g Carbohydrates: 11g Sugar: 6g Sodium: 16mg Fiber: 4g Protein: 4g Cholesterol: 4mg
Hope you enjoy!
Questions – What's your favorite Greek yogurt recipe?  What's your usual pre-workout fuel? 
Find me in these places!
E-mail — skinnyfitalicious@hotmail.com
Twitter — Skinny Fitalicious
Facebook — Skinny Fitalicious
Pinterest — Skinny Fitalicious
Instagram —Skinny Fitalicious