Grain Free Date Nut Bars are a no bake snack made with mixed nuts, shredded coconut and cashew butter that are oil and sugar free. They're gluten free, grain free, Paleo and vegan. A creamy and nutritious snack!
FRI-YAY!!! I almost didn't think this day would get here. This was a maniac week. Along with my usual blogging, sponsored activity and homework, I visited my tax advisor, auditioned for a cycle instructor position and endured two extremely painful days without internet (a story for another day). Thank goodness for Starbucks free wi-fi and coffee. 🙂
This week was the last week of my first set of nutrition classes. I worked my butt off getting papers done once I was back on line. Needless to say, I could not need a weekend more!  Next week I start a new set of nutrition courses which means I have the weekend off from homework. I usually do textbook reading on the weekend, but I won't get my schedule until Monday when the new module opens so I guess that means I get to play all weekend, although I'm not sure what I'm playing yet.
Most likely I'll be lifting heavy things, playing with food, pulling weeds (my backyard looks like a jungle) and cleaning out my closet. My athletic obsession has taken over my drawers so unless I'm about to not wear socks and underwear or hide them under my bed I have to figure something out. The next couple of months are going to be busy and the last thing I need are unorganized drawers making me crazy. There are already enough crazies in my life!
The good news is I have plenty of no bake snacks in my back pocket for busy weeks like these Grain Free Date Nut Bars. I have to tell you. No bake bars can be a thorn in my side. Sometimes they work and other times they literally crumble apart. Truthfully I had another recipe planned for today but sometimes we plan and God laughs, if you know what I mean.
So today you're getting these insanely creamy Date Nut Bars! They're grain free, gluten free, paleo, vegan and have no added oil or sugar. I am a true lover of every nut on the planet. I don't discriminate when it comes to nuts! This was my way packing all of them into a single Date Nut Bar held together by the dreamiest of nut butters, cashew butter.
What's great about this recipe is that it's super flexible. You can sub the cashew butter for almond or peanut butter, although my first recommendation would be cashew butter! You can also play around with the nuts depending on what you have on hand. I've made these Date Nut Bars five or six times with a different cast of nuts and they always taste so so good. Have fun trying not to eat all of them!
[Tweet "I'm nuts about these #Paleo Grain Free Date Nut Bars! "]
[yumprint-recipe id='215′]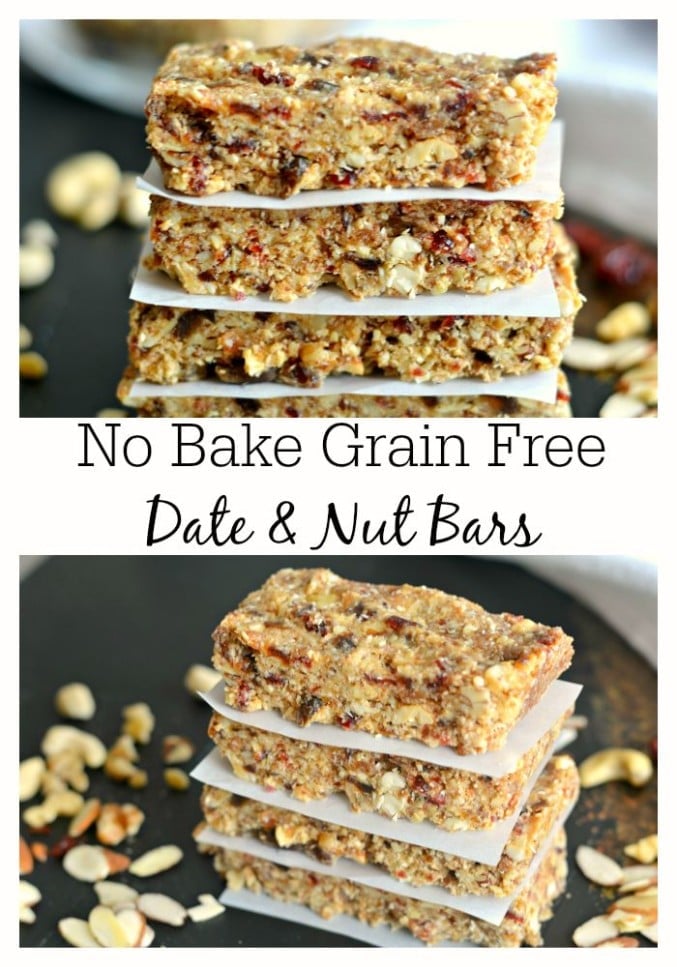 What makes you crazy? Do you have a clothes or shoe obsession?