Spring Clean Your Diet
Warm days are almost here and as the joys of comfort food eating come to an end (and I hibernate for the desert heat), the onset of warm weather is the best time to overhaul eating habits and commit to change. While eating clean may come naturally for some, it requires a little more effort for others. Whether your goal is to eat better or lose weight, now is the time. Consider this your spring cleaning checklist to get on track!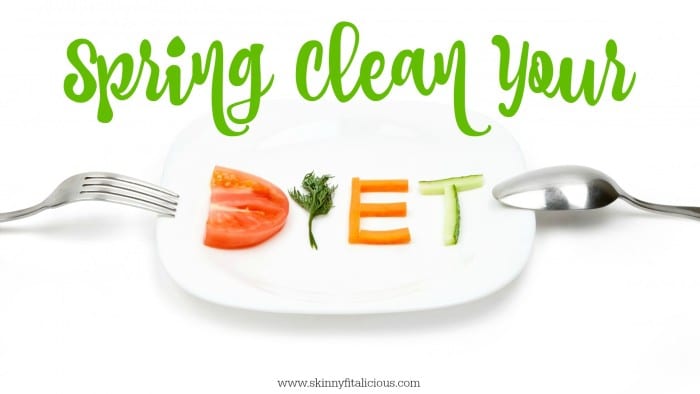 Hydrate, Hydrate, Hydrate
It can't be said enough how wonderful water is for the mind, body and soul. Water is refreshing, cleansing, nourishing and detoxifying. As the temperatures climb outside, the body needs more water to function. Carry a water bottle with you EVERYWHERE and to motivate yourself to drink more add your favorite fresh fruits and citrus flavors. It's fun and tasty! You can even get techie with a water bottle like this that tracks your water drinking with an app.
[AdSense-A]
Cleanse
Cleanse without a cleanse! Apple cider vinegar is one of my favorite ways to cleanse the body. It has so many health benefits from removing toxins to building gut immunity important. Add 1-2 teaspoons of ACV to a small glass of warm water every morning. The taste takes some getting used to, but it's worth it! A little lemon helps.
Ditch The Sugar
Sugar is the only thing I will ever tell you to reduce from your diet. Too much of the sweet stuff causes a ripple effective of health problems beginning with inflammation ending with obesity, type II diabetes, cancer and/or heart disease. Sugar is hidden in most packaged foods including bread, cereal, pasta, crackers, canned vegetables, beans & fruits, dressings and yogurt to name a few.
[AdSense-A]
Clear out the pantry, cupboards, freezer and refrigerator of foods high in sugar. Remember many foods have added sugar as a hidden ingredient. Check the sugar grams per serving and ingredients. 1 teaspoons of sugar equals 4 grams. 6 teaspoons a day is what the AHA recommends.
Replace these foods with more fruits, vegetables, whole grains, raw seeds and nuts. Invest in a good blender or juicer so you can turn them into homemade muffins, smoothies, sweet green juices or a savory hummus. These are sure ways to satisfy a sweet tooth!
Add Green To Your Plate
Leafy greens have powerful antioxidants and dietary fiber that are proven to aid in weight loss, de-bloating, digestion, detoxing, boosting immunity and metabolizing fats. Up your green game by adding more leafy greens to your diet. Aim for three to four cups daily. They will keep you full and energize you!
Drink a green superfood alkalinizing powder several times a week to support your body's natural detox and balance pH levels. Add it to a smoothie, juice, oatmeal or water.
Brown Bag It
Bringing your lunch to work is guaranteed healthy eating success. Bring leftovers from dinner or meal prep grains, proteins and vegetables on the weekend for the week. If you're really zealous, make your own homemade granola bars and snacks too!
Plant An Herb Garden
You can add so much flavor to food with herbs and spices. Having an herb garden is super simple, convenient and inexpensive. It's a great way to add flavor for less calories. If you're really motivated, plant a vegetable garden too! And while you're at it, stock up on spices and don't be afraid to try something new.
Visit The Farmer's Market
Farmer's Markets are great visual motivation for eating well. You just can't say no to the fresh, juicy produce! Not only will you score organic produce free of pesticides but you will save money too. Plus buying local you're helping the environment. It's a win-win!
If you can't make it to a farmer's market, do yourself a favor and buy as much organic as you can afford. Check the dirty dozen list and prioritize those foods over others when you're on a budget.
[Tweet "Spring clean your #diet with these 7 helpful tips!"]
How are you spring cleaning your diet?