Hi Guys!
How's your day going so far? Hoping you're enjoying these last beautiful days of April! Since May is right around the corner, that means Mother's Day is only a few days away. May 10th to be precise. Since my Mom lives many states away, I have to plan a little farther in advance to send something off to her. As I was getting ready to send her my special something, a few gift ideas came to mind that I thought I'd post them for those still shopping out there. We're doing a little thinking out loud shopping today. 😉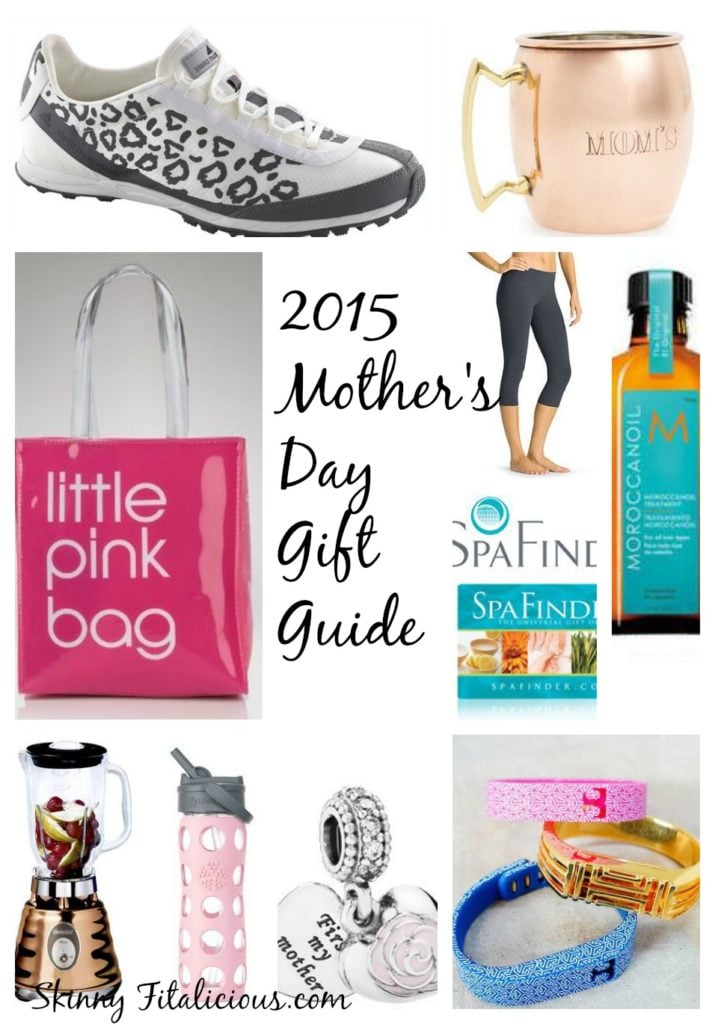 [Tweet "Need #MothersDay Ideas? Check Out These 10 Fabulous Gifts #giftguide"]
My Mom loves her coffee mug. She even keeps one at my house. I'm obsessed with everything copper and these couldn't be more perfect being pink.
My Mom loves wearing her crops and capri's to the gym and around the house. These Athleta ones have the softest material ever and fit most body types.
Activity trackers leave much to be desired when it comes to fashion, but Tory Burch makes up for it with her collection of discrete & fashionable jewelry for Fitbit.
I bought my Mom one of the bracelets last year. When she was in the hospital, she told me she wanted one. It's a fun way to collect personal memories & show them off.
This is the best hair product I've ever used. I put a small amount in my hair after washing it. It makes it smooth and luscious not to mention it smells amazing. Any Mom would love this.
Holly cuteness! My Mom carries a small tote with her to the gym. This would be perfect! It would also make a fun reusable grocery bag.
Spa Gift Card
You can't go wrong with this! Any woman appreciates the gift of spa.
These are my favorite! They're glass, but incredibly durable.
Kitchen Gadget
A Blender or waffle maker would be perfect for the summer months.
I absolutely adore the Adidas shoe line by Stella Mccartney. My Mom would love these tennis shoes. So would I! One for me, one for you. 😉
After you give Mom her special gift, take her out to brunch because there's nothing better than food, coffee & time with Mom. I almost lost mine and thankful every minute of everyday she's still here. Be sure to cherish yours.
This post isn't sponsored in any way, but there are some affiliate links above. Thank you for your support! What are your Mother's Day gift ideas?
Linking up today with Amanada @ Running with Spoons
Lots of Health, Food & Love,

Facebook | Twitter | Pinterest |Instagram