This post contains affiliate links. As an Amazon associate I earn qualifying purchases. Click here for more about this policy.
Last week a friend emailed me this. "Help! The kids are having a snow day this week. I want to bake something yummy. Got any recipes?" Why, in fact yes I do! I've got recipes pouring out of my eyeballs! Maybe I may need to hire an assistant to start cooking my blog recipes for me? Kidding!
The only thing I miss about living in Wisconsin besides my parents are snow days. Snow days are the best! I remember have a little dance party in my head every time there was a snow day. Why don't adults get snow days? I'm petitioning an adult snow day this winter! We'll throw a virtual party all day, drink wine, Instagram our baking pics, pin our hearts out and tweet hashtags no one understands. Just thinking out loud! Who's in?
Okay, maybe I've gotten carried away! But snow days do bring back fond memories. I will say if you have a snow day, it's a license to play! So why not celebrate by baking something delicious and healthy and in case you're out of ideas, I just so happen to have 20 YUMMY Snow Day Recipes ready to go for you. So start DROOLING! P.S. do me a favor and pin one? Thanks!
If you're gonna eat chocolate it's best to eat it with a veggie because it's all about balance, right? Packed with whole grains, Greek yogurt, puree squash and no refined sugar, this insanely delicious dark chocolate bread is what a chocoholic's dreams are made of!
Made with whole grains, molasses and fragrant winter spices, Mom's original skinny gingerbread pancake recipe are a special treat any winter day!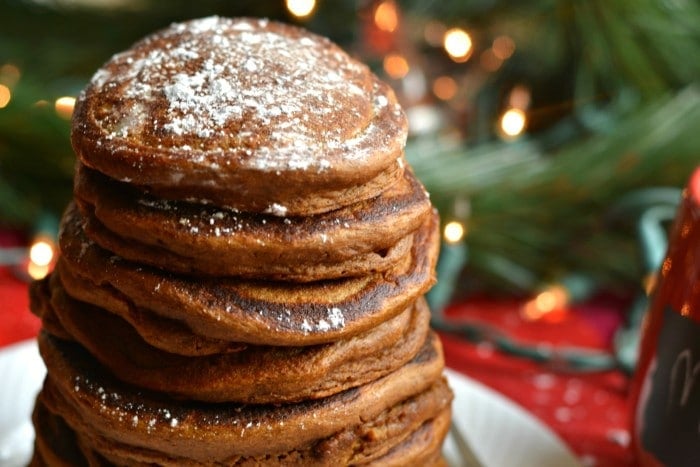 These soft muffins full of bananas, squash and oats taste exactly like a chocolate chip muffin, but better for you. Get the kiddos to eat healthy with this veggie packed chocolate chip muffin stuffed with butternut squash. They will never know it's there!
'
Flavored with molasses and warm winter spices, these lightly sweetened cookies sprinkled in sea salt are easy to make and make my heart melt every time I make them.
Make your house smell like winter with this spiced up, savory, Paleo granola. A yummy snack everyone can munch staying warm, watching their favorite movie!
The best brownie of all time! Made with cooked quinoa, nut butter, unsweetened cocoa powder and chocolate chips, these brownies are so good, they're sinful! P.S. If you making them, I'm coming over!
Banana bread gone Paleo! These almond-y muffins are my favorite way to eat banana bread. Lightly sweetened and full of healthy fat, these are better than the real deal!
My most popular cookie recipe on the blog! These cookies are for those who live for chocolate chip cookies. These cookies kick it up a notch with their seriously healthy ingredients and irresistible flavor!
It's a special occasion so why not treat yourself to these baked Cinnamon Glazed Pumpkin Donuts made with less fat, less calories and a whole lot of flavor. Perfect snow day treat!
Light as crepes and filling as pancakes, this citrus infused stack made with Greek yogurt and oats is comforting and warm!
Made with Greek yogurt, coconut and oat flour, these gluten free Coconut Cranberry Muffins sprinkled with hemp seeds are dense, dreamy and delicious. My personal favorite muffin!
Made with fresh apples, peanut flour, gluten free whole oats, flax and chia seeds, these cookies are the ultimate melt in your mouth not in your hand.
Get the kids ready to play in the snow by fueling them with health with this warm, citrus, cinnamon-y oatmeal packed with super seeds. Bonus! Make it in the crockpot and it's easy as a breeze, just like it was baked in the oven!
Show the kids how science works in the kitchen by heating together the three ingredients in this delectable fudge that cause a mini explosion. Not only will they learn about chemistry, but eat something good for them too!
No oven? No problem! Grab the kids and build an assembly line mixing and rolling these easy peasy hemp seed energy bites. Packed with whole grains, healthy fats and omega 3's, these bites pack a nutrition punch!
Bursting with lemon, these are the creamiest Paleo and vegan cookie you will ever meet! The perfect combo of sweet and tart. What cookie dreams are made of!
A gluten free muffin made with carrots, blueberries, bananas, chia seeds and oat flour. This low calorie goodie packs some serious nutrition. An easy blender snack that will be ready in minutes!
A granola bar made with bananas, applesauce, hemp and muesli. An easy, homemade snack bar everyone will love!
These bars are meant for the chocolate chip cookie lover in your life. Made with wholesome ingredients, you won't have to worry about everyone coming back for seconds with these good treats!
A flourless muffin packed with twice the chocolate and super seeds. This melt-in-your-mouth muffin is made with my favorite nut butter Nuttzo and because I'm an ambassador you get 20% off your online order using my code olso-20. No better time to stock up than right now!
What do you say? Do you want in on my snow day? What are you making on your snow day?
[Tweet "Celebrate snow days baking something good! 20 Recipes to celebrate a snow day via @skinyfitlicious"]

Facebook | Twitter | Pinterest |Instagram
Disclaimer – Affiliate links are included, which enable me to earn a small income and do not affect purchase price. Money earned goes back into my large grocery bill to bring you more delicious recipes!
[AdSense-A]