I no longer offer the sugar challenge. Please watch my free class for help with cravings.
Hi Friends! I can't believe it's already January. I also can't believe it time for another 14 Day Sugar Challenge.
This will be the 5th group challenge I've done and I LOVE doing them so much! They're motivating, supportive and uplifting. Who doesn't need more positivity and support with their goals especially this time of year?
People who have done the 14 Day Sugar Challenge in the past always left saying it EXCEEDED THEIR EXPECTATIONS and was MUCH MORE than a challenge.
You learn SO MUCH in the 14 days. Think of it as a 14 day bootcamp on how to eat for your hormones. My goal is to always TEACH whether it's through the 14 day sugar challenge, in my group coaching or 1:1 coaching. To TEACH YOU how to eat healthy for life not just for 14 days.
In the 14 Day Sugar Challenge, you learn about cravings, how you get them, how to stop them, how to make a balanced approach to eating, what nutritional deficiencies to watch out for and important supplements I recommend. There's also nerdy nutrition stuff like neurotransmitters and amino acids and how they plan an important role in cravings.
This challenge is about you learning how to eat for life. I've thought about changing the name from "challenge" to "bootcamp" because it's truly an intensive 14 day bootcamp on how to eat real food to combat cravings.
Cravings are the number one question I get and I wouldn't host this challenge if I didn't 100% believe it works. Today it's easy to overeat sugar. It's everywhere! Over the counter medications, sauces, chips, crackers, store prepared egg salads, etc. Things you would never expect it to be in. The problem is this disrupts your hormones. Hormones are what control your cravings, satiety and satisfaction with what you eat.
This challenge teaches you to eat for your hormones and reset your taste buds eating real food. By the end of the 14 days you will have more energy, sleep better and less cravings. You will have a supportive community motivating you and cheering you on along the way!
You are READY and DESERVE this change. Stop doubting yourself and take the leap!
14 Day Sugar Challenge
What is it?
The 14 Day Sugar Challenge is a 14 day group challenge in my private Facebook group where I provide you with a nutrition guideline that you are challenged to follow for 14 days along with an example meal plan + recipes. Each day, I provide videos to help you identify where your cravings are coming from so you can work beyond the challenge on fixing root causes.
When Is It?
January 14th through 27th.
How Do I Get Rid Of Your Cravings?
Two ways!
#1 – Each day I provide you with a video that teaches you about cravings, how you get them, where they come from, how to prevent them, etc. so you know what triggers your and the diet and lifestyle changes you need to make to stop them.
#2 – Following my nutrition guideline, you will eat with your natural hormone cycle. This will reset your cravings, help you sleep better and give you more energy.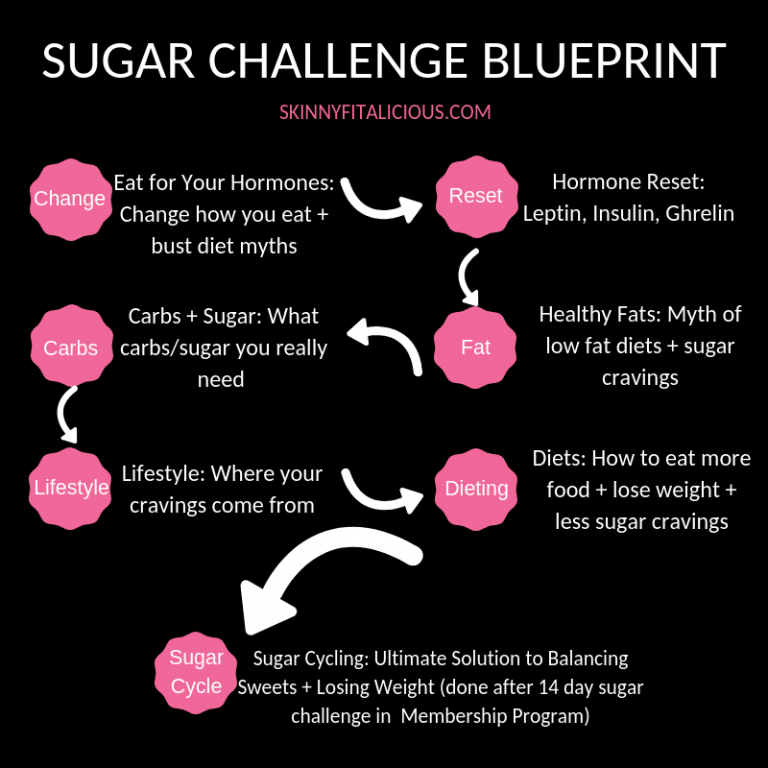 What Do You Do In The Challenge?
Follow the nutrition guideline the best you can and show up in the Facebook group everyday and engage. Post pictures of what you're eating, ask questions, ask for help, share, share, share! I provide feedback and answer all questions directly in the group.
Bonuses You Get When You Sign Up
BONUS 1: Customized Health Blueprint (valued at $189)
BONUS 2: 3 Months FREE Membership group coaching (valued at $549)
BONUS 3: 40 Minute one-on-one Call with me (valued at $179)
Bonus 4: Nutrition Guide + Cravings Program (valued at $299)
Where Do I Sign Up?
Here! Spaces are are first come, first serve and limited. Sign up closes Sunday January 13th!
What Others Have Said About The Challenge

Can I Cancel?
You must be 100% committed before you buy. There are NO REFUNDS. Please review my policy, terms and conditions page for more details.